Yuma Salsero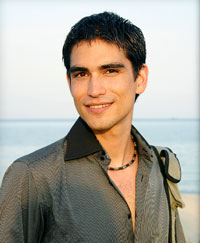 My name is Yuma, I'm a French salsa teacher and dancer. Also a traveler who enjoys discovering new countries and meeting new people.
I mixed those two passions spending more than 1 year traveling, teaching and dancing salsa in 35 European countries. First alone, then with a team: dancers, cameramen, photographers, street performers, some of them old friends, others met down the road...
In November '08, when I visited Poland for the first time, I would never imagine moving to Warsaw only one year later. Warmly welcomed in Salsa Libre dance school I decided to stay there for 8 months.
People are often asking me why, after dancing in almost all the countries in Europe, I chose to move to Poland to dance salsa. How else can I answer if not by saying : "Come, meet me, dance here, and you will understand!"
In June 2010 I opened a second chapter to this adventure : a trip to the roots of salsa in south america, and the caribbean Islands : (Cuba, Puerto Rico, Santo Domingo and also some smaller islands).
This was the beginning of a new amazing adventure across this fascinating continent. I traveled on the amazon river, from the delta to the source, lived in the jungle with indigenous communities and went as far as cap horn. Everywhere I found something to learn.
Arriving to Argentina, I took a break from travelling and started an intensive tango practice in Canelo Estudio. I lived in Buenos Aires 5 months in a tango house : a building full of tango dancers and teachers with all training facilities.
Then we took the road again : Brasil, and the caribbean Islands : Cuba, Santo Domingo, Puerto Rico, ...
About Yuma
Yuma did not grow up in a dancing and musical environment. Till he was 30 years old, he was just like most of the people who don't know anything about dancing.
But from the day when he discovered dancing, it became a real passion which changed his life. He resigned without any regret from his job of a computer engineer and company manager to start learning to dance. From that moment he trained every day, learning ballroom dancing, then salsa and Afro-Caribbean dances with Jerry Cothias and later Cliford Jasmin. After 2 years he started a one-year-long professional formation course in France in Salsabor, the first salsa school in France, which has been teaching salsa on2 (NY palladium style) since 1997.
He graduated in 2008 and started teaching in Paris. He had his first performance on stage in the same year at the Paris international salsa congress (Paris Mambo Festival).
Then he started traveling in Europe, moving from one salsa congress to the next one, dancing salsa in every country. He spent six months traversing salsa congresses in Europe, mixing the two passions: traveling and dancing.
Then, during 6 months, with other dancers met down the road and a video team, he traveled across the Balkan countries (50 cities in 18 countries), organizing workshops, teaching, always finding a place to stay at people's houses. Meeting great personalities and shooting a movie depicting those adventures!
After this tour, Yuma went to Warsaw, Poland to integrate with Salsa Libre dance company. His teaching specialties are salsa footwork (shines) on1, on2, body movement (spicing up your basic steps), body isolations, movement analysis, partnerwork and French zouk love.
The current trip will bring many surprises...

Add Yuma Salsero on facebook and follow our adventures online!