Arny Martin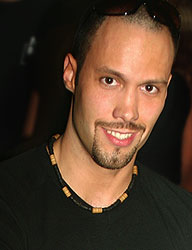 Arny is an effective teacher aiming to inspire and instill confidence. He appreciates the individuality of each of his students and has the ability to motivate everyone to develop their skills. He believes dancing should first and foremost be a pleasure, that's why he always tries to make his classes fun and friendly.
Arny's teaching review in Poland
About his Sensual Bachata

: Arny makes you feel and love this sensual dance and music. Bachata is a popular guitar music from the Dominican Republic, based on the bolero rhythm. Particularly the influence of merengue
can be felt in the rhythms of bachata proper. In the P1 module you will get the different basic steps, turns and combinations, a lot of nice stuff to practice on the parties! Start now to become a very SENSUAL BACHATERO!



About his Bachata Passion Style

: Arny wants you to become a passionate Bachatero with excellent technique and high music listening! Bachata musicians have traditionally included other kinds of music like bolero, merengue or son in their repertoires. In modern Bachata, the influence of R'n'B (Aventura, Nueva Era) and Tango (Bachatango) can be felt in the rhythms, harmonies and melodies. Learn to bring the feeling of contemporary Bachata on the floor. Sexy turns of ITALIAN STYLE, fast footwork of DOMINICAN STYLE or ochos of BACHATANGO: Learn new technicalities in advanced combinations, blended in a nontrivial, yet coherent, fusion, spiced up with tricks, dips & video clip dancing, make for an impressive show. Become a PASSIONATE BACHATERO!



His "L.A. Night Club Style"

is based on Cross Body Style on1 and inspired by the legendary Vazquez brothers from Los Angeles and the Brazilian Alex da Silva. Combinations are flavoured with NY and Cali Style, as well as Tango and Video Clip Dancing. Blended in a nontrivial, yet coherent, fusion, these elements, spiced up with tricks and dips, make for an impressive show. Don't be frightened: Arny gives you the essential knowledge to improve fast and to take self-confidence. He wants you to practice with enthusiasm and be able to bring the moves to the dance floor. ... YOU'LL HAVE NEW STUFF FOR THE NIGHT CLUB!

Teaching Repertory
L.A. Style Combinations
L.A. Style Trick'n'dips
L.A. Style with Tango
Footwork on 1

Introduction for Dancing on "2"
Combination on "2"
Salsa Acrobatics (Lifts)
Musicality Moves
Rueda de Casino on 1/on 3
Cuban Style on 1/on 3
Cuban Tricky Moves
Cuban Footwork and Line DanceBachata & Merengue

Bachata Sexy Moves
Bachatango
Cha Cha Cha Night Club Style
Samba Gafiera Moves & Salsatango

Add Arny Martin on facebook and follow our adventures online!